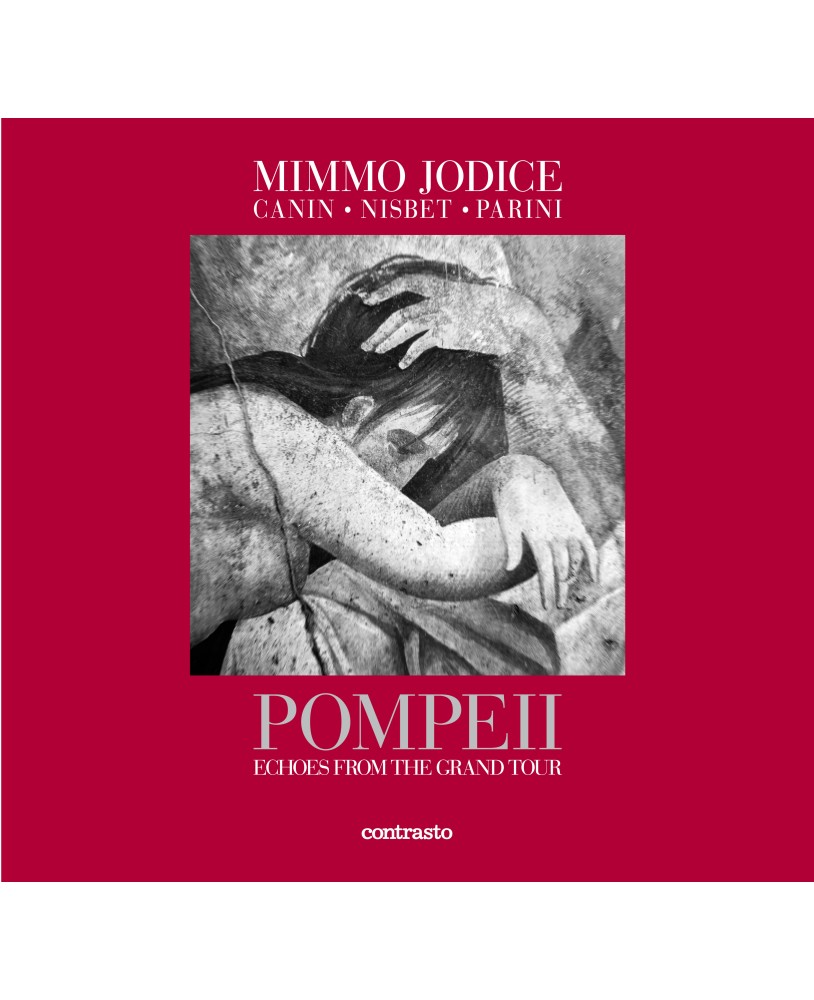  
Pompeii
Pompeii. Echoes from the Grand Tour, is a collection of 53 photographs of Pompeii, never published before, shot by the master photographer Mimmo Jodice. Unique images, visions conjuring up a long-lost past tradition, coupled with texts by Ethan Canin, Jim Nisbet and Jay Parini. The project was conceived by Angelo Cannavacciuolo, with an introduction by the officer in charge of all emergencies in the archaeological area of Naples and Pompeii, Marcello Fiori.



Tutti i tuoi acquisti sono protetti con i migliori standard SSL e certificati !

Spedizione veloce e con tracciabilità per seguire il tuo prodotto.

Tutti gli acquisti godono del diritto di recesso.
Mimmo Jodice
9788869652769
28x26 cm 
136 pages
53 b/w pictures
hardback
"What better location for this Grand Tour project than Pompeii? 
And what better way of re-evocating it if not through the work of great contemporary writers of the calibre of Ethan Canin, Jim Nisbet and Jay Parini, and of an internationally renowned artist-photographer, Mimmo Jodice? Together, they have been invited to assume the role of traveller and create a  testimony for our collective memory, revisiting Pompeii through a blend of the classic and contemporary, literature and photography. It is clear, then – albeit unusual – that by combining two different art forms (in an editorial sense, also), we have aimed to reach the very depths of our "historic" memory. 
I would also like to think that, in this case, the writing and photography are like parallel segments that in all probability are destined to converge, the point of convergence being where they translate into our "historic" memory, forming a bridge that extends back out again to new areas. But above all, I would  like to think that this photography book, in its simplicity, might be seen as a little tool to engender a  new form of complicity, a new-found love for art, culture and beauty, and that it might lead to a new-  found respect for this region. " 
From the introduction by Angelo Cannavacciuolo 
Mimmo Jodice was born in Naples in 1934. He started approaching photography in the late 50s and the focus of his research ranged form experimental photography to concerned photography. His encounter in 1968 with Lucio Amelio and other artists such as Warhol, Rauschemberg, Beuys, Kounellis, Burri and Pistoletto was decisive for his orientation. At the end of the 80s he started working on urban landscapes, first in Naples and then in other cities in Italy and Europe. In 1990 he published the book Le città invisibili. Later on he drew his attention to the classics: the Mediterranean, the theme of memory, the presence of the past in the present. This research resulted in the books Mediterraneo and Eden and was completed in the volume Perdersi a guardare (Contrasto, 2007), which accompanied an exhibition at the Forma Fountation, Milan. In 2003 the Accademia dei Lincei, Rome, awarded him with the pretigious Antonio Feltrinelli Prize – this was the first time such a prize was given to a photographer. In 2007 the Studi Federico II University, Naples, honoured him with a degree honoris causa in architecture. In 2010, two great restrospectives were dedicated to his work, one at the Palazzo delle Esposizioni, Rome, and the other at the Maison Européenne de la Pohtographie, Paris.
Highly regarded as both a novelist and a short story writer, Ethan Canin has ranged in his career from the 'breathtaking" short stories of Emperor of the Air to the "stunning'" novellas of The Palace Thief, from the "wise and beautiful" short novel Carry me Across the Water to the "epic" America America. His short stories, which have been the basis of four Hollywood movies, have appeared in a wide range of magazines, including The New Yorker, The Atlantic Monthly, Esquire, The Paris Review and Granta, and have been selected for many prize anthologies. The son of a musician and public-school art teacher, he spent his childhood in Ohio, Pennsylvania, and California before attending Stanford University, the University of Iowa Writers' Workshop, and then Harvard Medical School. He subsequently gave up a career in medicine to write and teach, and is now F.Wendell Miller Professor of English at his alma mater, the Iowa Writers' Workshop, where he has been privileged to teach a great number of talented new writers. In his spare time he is very slowly remodeling two old houses, one in the woods of northern Michigan and the other in Iowa City, where he lives with his wife, their three children, and four chickens.
Jay Parini is an American poet, novelist, and critic.  His is Axinn Professor of English at Middlebury College in Vermont.  His seven novels include The Apprentice Lover, Benjamin's Crossing, and The Last Station, which was recently made into an Academy Award-nominated film starring Helen Mirren and Christopher Plummer.  His five books of poetry include The Art of Subtraction:  New and Selected Poems.  He has written biographies of John Steinbeck, Robert Frost, and William Faulkner, and has published numerous books of criticism and reflection, including Some Necessary Angels:  Essays on Literature and Politics.  He writes often for various newspapers, such as The Guardian in Britain and The New York Times in the U.S.  His grandparents came from Rome and Genoa, and he has lived with his family in Amalfi and Umbria at different times in his life.
Jim Nisbet is the author of ten novels, including Lethal Injection, Dark Companion, The Price of the Ticket, Prelude to a Scream, The Octopus on My Head, and Windward Passage. His work has been published in nine languages. Nisbet has twice won the Pangolin Papers Annual Fiction Award, and thrice been nominated by for a Pushcart Prize in short fiction. His novel, Dark Companion, was shorted-listed (with four other nominees) for the 2006 Hammett Prize. He has also published five volumes of poetry.