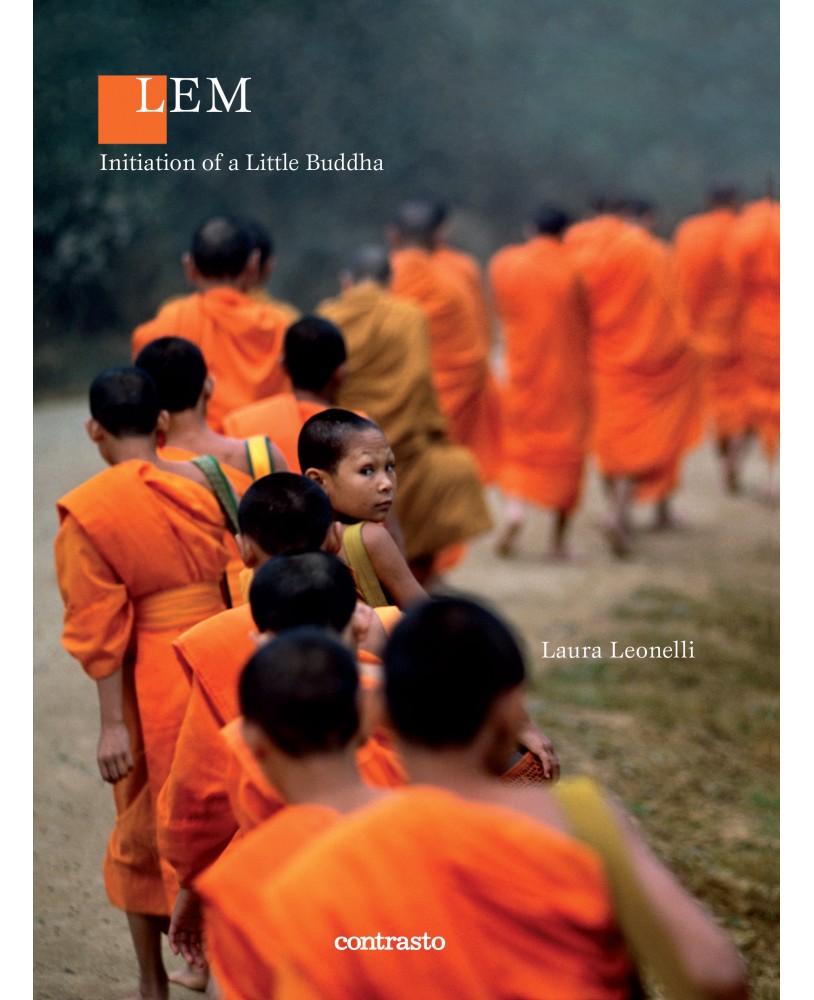  
Lem - initiation of a little Buddha
For the first time a woman is allowed into a Buddhist monastery, discovering Laos and its monasteries.
With her touching words and intense photographs, Laura Leonelli tells the world of Lem, an aspiring monk, and his entry in a monastery.
 
In Laos, one of the most beautiful and least known countries of the East, in a small village in the mountains, a twelve-year-old boy, Lem, is about to enter the monastery.
Tutti i tuoi acquisti sono protetti con i migliori standard SSL e certificati !

Spedizione veloce e con tracciabilità per seguire il tuo prodotto.

Tutti gli acquisti godono del diritto di recesso.
Leonelli Laura
9788869654084
15x21 cm
228 pages
100 colour photographs
hardback
In the fragile space between a dawn and a sunset, Lem will abandon his family and become a novice in the holy city of Theravada Buddhism, Luang Prabang. In just a few hours Lem will leave behind his past, his affections, his child games and his mothers caresses. In order to continue his studies, to become an adult, Lem will have to bear detachment, loneliness, hunger, fear, the vision of death. The only way for him to gain a new maturity is by subjecting himself to the rigours of the rite of initiation; rigours we are no longer familiar with, belonging as we do to a society that has endlessly extended the boundaries of adolescence.
Laura Leonelli describes his daily life, the fears, the longings and the hopes of the young monks, from a unique and privileged perspective.
 Lem, wrapped in the orange robe, is about to join a world composed entirely of men, symbol of all authority. But accompanying him on this journey, in the week preceding the Laotian New Year and while people wait for the rain that will swell the waters of the Mekong and make the gold of the pagodas shine, is a female gaze, unprecedented and, in a way, forbidden. The gaze of his mother and the author. Together, they will follow Lem to his new home. They will enter the cells of the monks with him, sleep in the darkness of the temples and walk in silence in the heart of the forest, the place where the masters retreat in meditation. Together, a mother and a son, a woman and the man who is to be, will experience the pain hidden in all life.

Laura Leonelli is a journalist who writes on photography and travel for the Sunday supplement of Il Sole 24 Ore and Panorama Travel. Feltrinelli has published her book Siberia per due. Madre e figlia lungo lo Enisej. She has edited the volume Imagina. I grandi fotografi di Epoca raccontano il mondo, published by Leonardo Arte and Mondadori, and written the texts of the monograph Mauro Galligani. L'impero perduto. For Contrasto editions she has contributed to the volumes FOTO:BOX and Master Photographers.