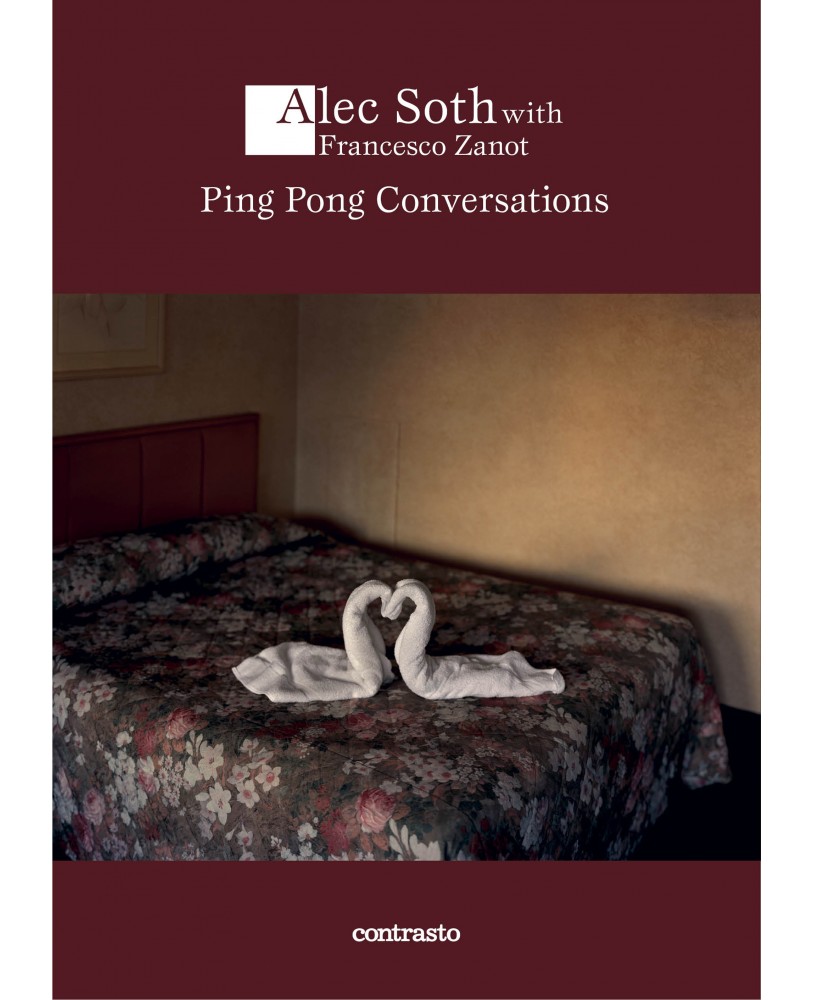  
Ping pong conversations

Ping Pong Conversations is a long, friendly conversation between Alec Soth, one of the most prominent artist of this time, and the Italian curator and critic Francesco Zanot. Analyzing his most famous photographs as well as others that have been published or are virtually unknown, Soth reflects upon his career as a photographer.

VAI ALL'EDIZIONE ITALIANA DEL LIBRO

COMPRA EBOOK
Tutti i tuoi acquisti sono protetti con i migliori standard SSL e certificati !

Spedizione veloce e con tracciabilità per seguire il tuo prodotto.

Tutti gli acquisti godono del diritto di recesso.
Alec Soth
9788869654091
15x21 cm
182 pages
78 colours photographs
hardcover


Each picture gives rise to a charter of its own, an original thought or reflection. Storytelling and the use of color and black and white, staged and candid approaches, and personal and political issues are just a few of the many arguments that the American photographer discusses with Francesco Zanot, resulting in a combination of words and images that constitutes both a complex examination of Alec Soth's work and a manual on that reading of photography itself. Soth's images are shuffled together here to form new sequences: tracing the threads of memories, addressing cultural issues and references, and thus creating unforeseen and unforeseeable connections.
Alec Soth (b. 1969) is a photographer born and based in Minneapolis, Minnesota. His photographs have been featured in numerous solo and group exhibitions, including the 2004 Whitney and São Paulo Biennials. In 2008, a large survey exhibition of Soth's work was shown at Jeu de Paume in Paris and Fotomuseum Winterthur in Switzerland. In 2010, the Walker Art produced a large survey exhibition of Soth's work entitled "From Here To There". In the same year the Triennale di Milano held Soth's exhibition "Mississippi Niagara" and in 2011 Fotografia, International Festival of Rome entrusted him the Rome Commission for which he realized the series "La Belle Dame Sans Merci". Alec Soth's first monograph, Sleeping by the Mississippi, was published by Steidl in 2004 to critical acclaim. Since then Soth has published Niagara (2006), Fashion Magazine (2007), Dog Days, Bogotá (2007), The Last Days of W. (2008), Broken Manual (2010) and La Belle Dame Sans Merci (2011). Soth has been the recipient of numerous fellowships and awards, including the Guggenheim Fellowship (2013). In 2008, Soth started his own publishing company, Little Brown Mushroom. Soth is represented by Sean Kelly in New York, Weinstein Gallery in Minneapolis, and is a member of Magnum Photos.
Francesco Zanot, photography critic and curator, has worked on exhibitions and publications together with some of the most prominent photographers on the international scene. He has held courses and seminare on the history and theory of photography for major training institutions both in Italy and abroad, including the Columbia University of New York, the American Academy of Rome, and the IULM in Milan. Currently director of the Master in Photography and Visual Design organized by Forma, Foundation for Photography and NABA in Milan, he is a consultant for Contrasto's exhibition activities as well as an associate editor of Fantom—Photographic Quarterly.