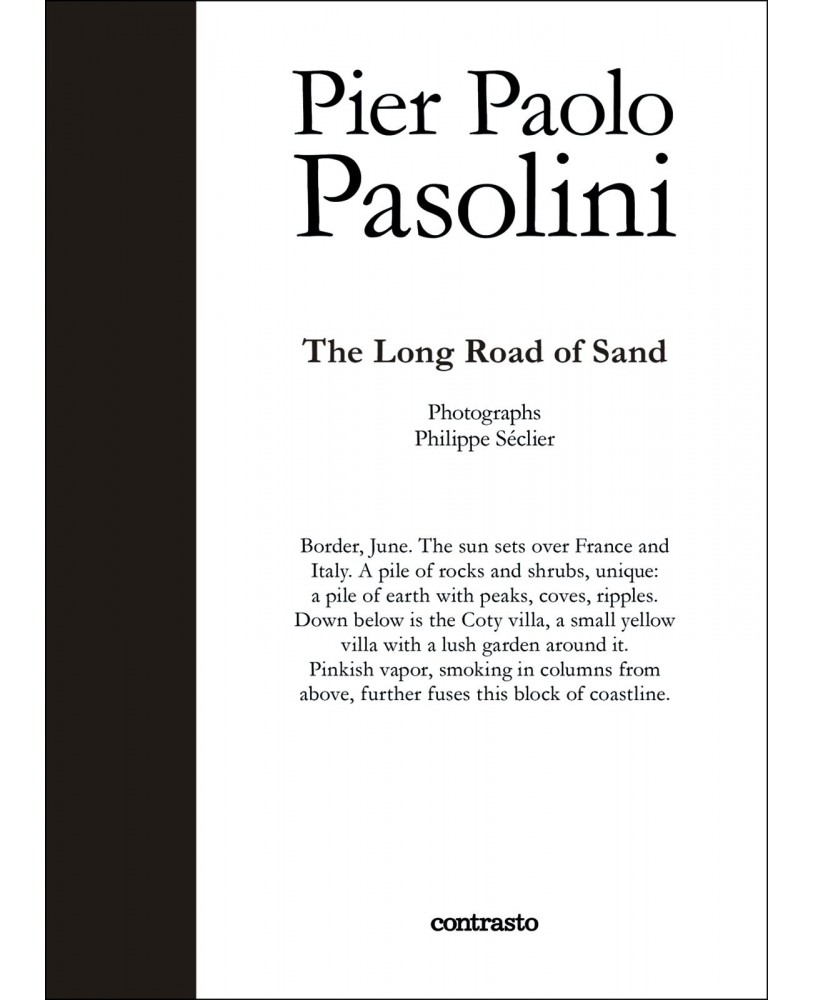  
The Long Road of Sand
"I am realizing nowadays that in every journey in Italy, in one way or another, I met Pasolini, until The long road of sand brought me on his traces: so I decided to put my steps behind his, to see what he had seen, understood and felt. I decided to follow that route exactly as he described it, accompanied by him".
Tutti i tuoi acquisti sono protetti con i migliori standard SSL e certificati !

Spedizione veloce e con tracciabilità per seguire il tuo prodotto.

Tutti gli acquisti godono del diritto di recesso.
Pier Paolo Pasolini
9788869655791
16x22,4 cm
200 pages
62 b/w photographs
Hardcover

Philippe Séclier, author of photographs.
Summer 1959. Pier Paolo Pasolini, driving a Fiat Millecento, travelled along the Italian coastline, to carry out La lunga strada di sabbia (The Long Road of Sand): a wide report commissioned by the magazine Successo on Italy between tradition and transformation, middle-class holidays and remains of a difficult post-war period. After forty years, the photographer Philippe Séclier has travelled again along the same route, finding traces, images and memories of the great writer and of his unforgettable portrait of Italy. Now, Contrasto publishes for the first time the complete text of The long road of sand, together with the original manuscript by Pier Paolo Pasolini and the photographs by Philippe Séclier. A unique document to get to know again, forty years after his death, the skill of a great writer and intellectual, and rediscover his strong bond with our country.
 
Pier Paolo Pasolini (Bologna, 5th March 1922 - Lido di Ostia, 2nd November 1975) was an Italian poet, journalist, film-maker, scriptwriter, actor, songwriter and writer. It is considered one of the major Italian artists and intellectuals of 20th century. Gifted with an exceptional cultural versatility, he distinguished himself in numerous fields, leaving contributions as poet, novelist, playwright, linguist, journalist and film-maker. Keen observer of the transformations of the society, from the end of World War II to the half the 1970s, he often aroused strong controversies and intense debates for his critical judgement on the middle-class habits and on the rising Italian consumer society, as well as on the protests of 1968 and its protagonists. His relation with homosexuality was at the centre of his public personality.