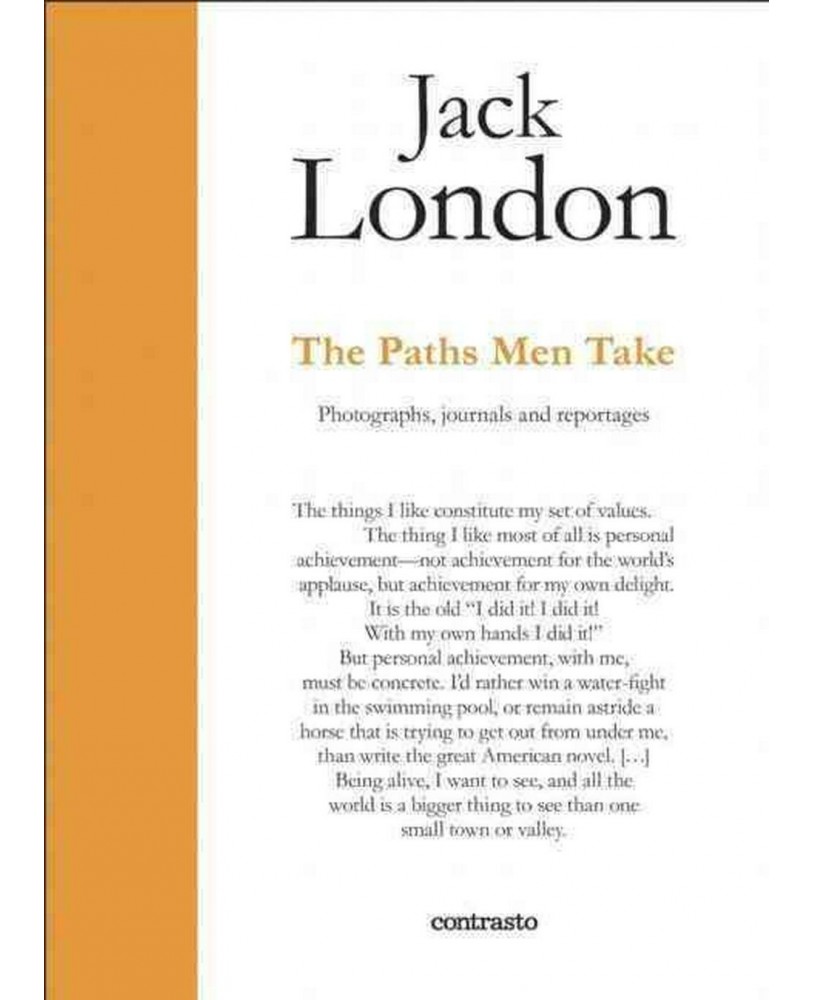  
The Paths Men Take
Jack London has been a legendary writer of the beginning of the Nineteenth century: famous, prolific, controversial, and revolutionary. He has been one of the most fascinating personalities in the history of US. But this is not all. 


Tutti i tuoi acquisti sono protetti con i migliori standard SSL e certificati !

Spedizione veloce e con tracciabilità per seguire il tuo prodotto.

Tutti gli acquisti godono del diritto di recesso.
Jack London
9788869656392
16x24 cm
196 pages
70 b/w photographs
Hardcover 

In his life, Jack London was also a photographer (he would call his pictures "human documents") and his camera has been his inseparable companion in his adventures and reportages all over the world. The book Jack London. The Paths Men Take – with the introduction by Davide Sapienza – includes a vast selection of his photography reportages, together with his excerpts from his narrative and journalistic masterpieces. These include important landmarks in which Jack London was witness of key events of his times, like the Russo-Japanese War, the San Francisco earthquake and the incredible Cruise of the Snark. Jack London took nearly 12,000 photographs all over the world, covering news events as well as his personal adventures. The camera became his inseparable companion in his explorations and journalistic adventures.
Jack London was born John Griffith Chaney on January 12nd, 1876, in San Francisco, California. After completing grammar school, London worked at various jobs to help support his family. He briefly enrolled in a university and took English classes, for he loved to read and write. In 1897 and 1898, London, like many other American and Canadian men, went north to Alaska and the Klondike region of Canada to search for gold. This was the Alaska Gold Rush. His experience in the extreme environment of this cold part of the world gave him ideas for the stories he would write when he decided to return to California. Upon his return to the San Francisco area, he began to write about his experiences. After winning a writing contest, he succeeded in selling some of his stories and in 1900, he published a collection of his short stories, The Son of the Wolf. Among London's most important books were his masterpiece The Call of the Wild (1903), People of the Abyss (1903), written about the poor people of London, England; The Sea Wolf (1904), a novel based on the author's experiences as a seal hunter; John Barleycorn (1913), an autobiographical novel about his struggle against alcoholism; and The Star Rover (1915), a collection of related stories dealing with reincarnation. London wrote more than 50 books and enjoyed enormous international popularity as an author and his stories and novels were translated into many different languages. Jack London died in 1916, at only 40.