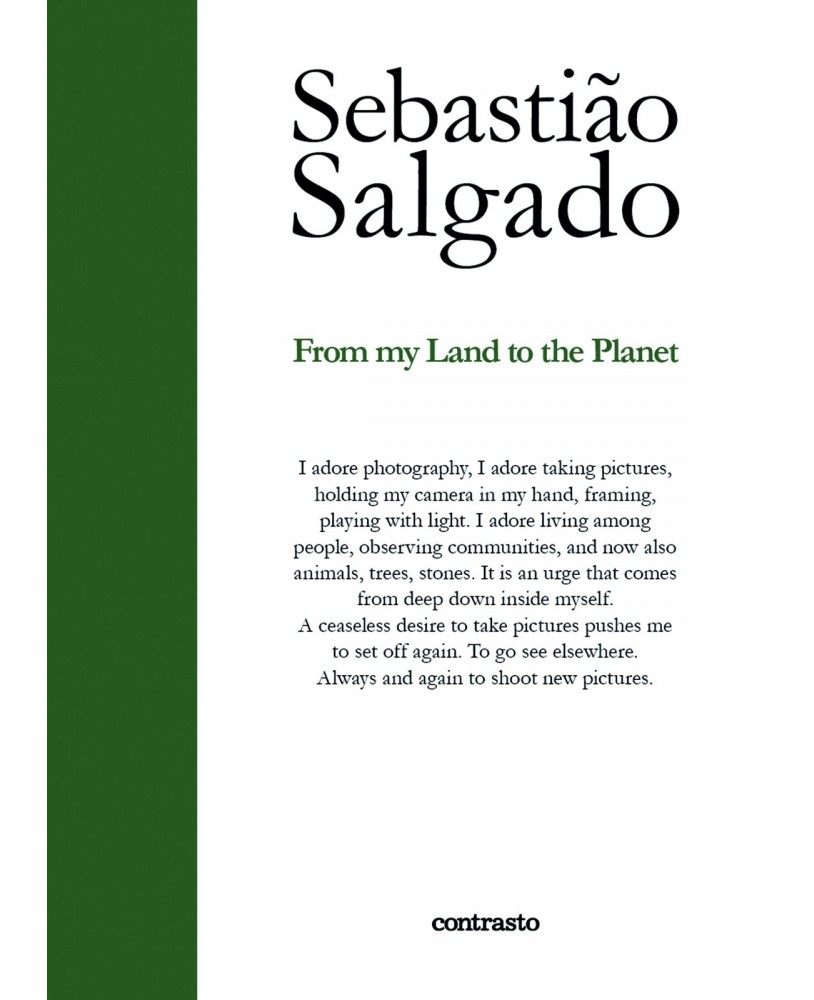  
From my Land to the Planet
Sebastião Salgado's photographs have been shown around the world. In From my land to the Planet the photographer tells us the story of his most famous reportages, the black and white portraits of unknown men and women, workers or refugees, and more recently his Genesis project aimed at the conservation of the most beautiful places of our planet.


VAI ALL'EDIZIONE ITALIANA DEL LIBRO

COMPRA EBOOK

Tutti i tuoi acquisti sono protetti con i migliori standard SSL e certificati !

Spedizione veloce e con tracciabilità per seguire il tuo prodotto.

Tutti gli acquisti godono del diritto di recesso.
Sebastião Salgado
9788869655371
16x22,4 cm
160 pages
40 b/w photographs
hardcover

With a kindness and a disarming simplicity, Salgado rebuilds its path, exposes his beliefs, makes us sharers of his emotions. It turns out that his talent as a storyteller and the authenticity of a man who knows how to combine activism and professionalism, talent and generosity. Inside the book there are fascinating stories of Africa, Brazil, the Americas, Mozambique and Rwanda, and then again the birth of the Instituto Terra, of Genesis project, of the agency Magnum Photos until Amazonas Images.

"I very much like to work on long-term projects...There is time for the photographer and the people in front of the camera to understand each other. There is time to go to a place and understand what is happening there. ...When you spend more time on a project, you learn to understand your subjects. There comes a time when it is not you who is taking the pictures. Something special happens between the photographer and the people he is photographing. He realizes that they are giving the pictures to him. With my background as an economist, sociologist, and anthropologist my photograpy can be nothing but social. Everything in my background, my upbrising, my education, my focus on sociology, anthropology, and geopolitics—has speeded into my photography. Photography, for me, is continuity."
Sebastião Salgado

Sebastião Salgado was born on February 8th, 1944 in Aimorés, in the state of Minas Gerais, Brazil. He lives in Paris. Having studied economics, Salgado began his career as a professional photographer in 1973 in Paris, working with the photo agencies Sygma, Gamma, and Magnum Photos until 1994, when he and Lélia Wanick Salgado formed Amazonas images, an agency created exclusively for his work. He has travelled in over 100 countries for his photographic projects. Most of these, besides appearing in numerous press publications, have also been presented in books such as Other Americas (1986), Sahel: l'homme en détresse (1986),  Sahel: el fin del camino (1988),  Workers (1993), Terra (1997),  Migrations and Portraits (2000), and Africa (2007).  Touring exhibitions of this work have been, and continue to be, presented throughout the world. Sebastião Salgado has been awarded numerous major photographic prizes in recognition of his accomplishments. He is a UNICEF Goodwill Ambassador, and an honorary member of the Academy of Arts and Sciences in the United States. In 2004, Sebastião Salgado began a project named Genesis, aiming at the presentation of the unblemished faces of nature and humanity. It consists of a series of photographs of landscapes and wildlife, as well as of human communities that continue to live in accordance with their ancestral traditions and cultures. This body of work is conceived as a potential path to humanity's rediscovery of itself in nature. Together, Lélia and Sebastião have worked since the 1990's on the restoration of a small part of the Atlantic Forest in Brazil. In 1998 they succeeded in turning this land into a nature reserve and created the Instituto Terra. The Instituto is dedicated to a mission of reforestation, conservation and environmental education.