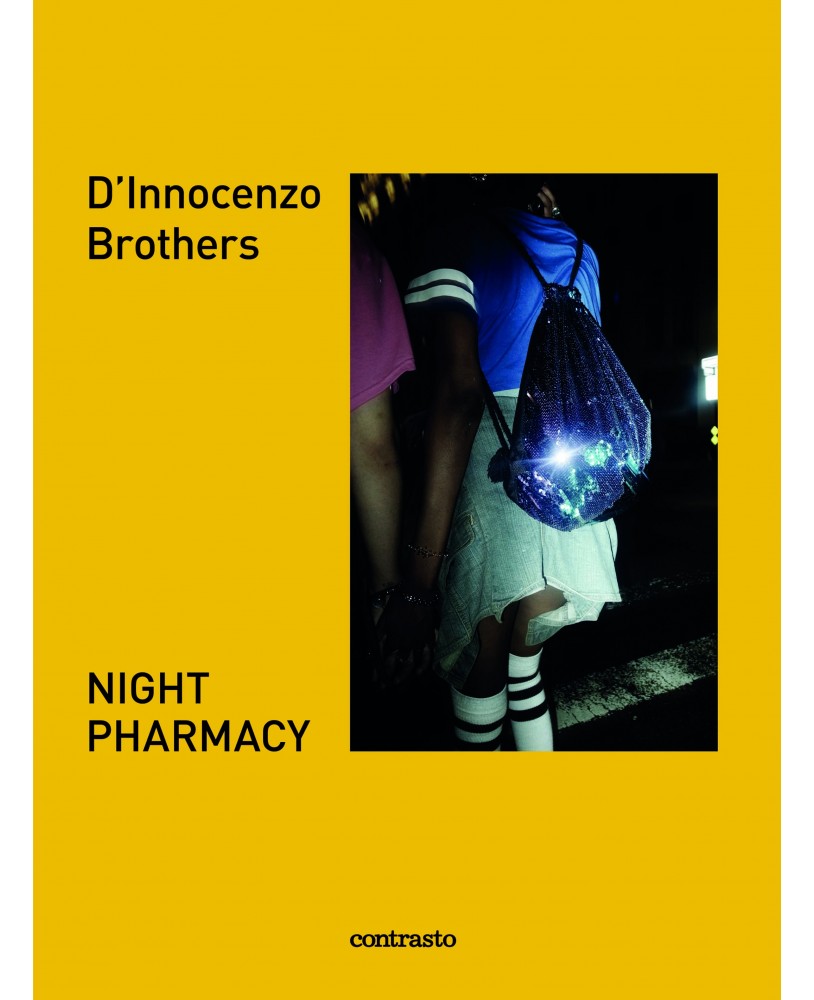  
Night Pharmacy
Tutti i tuoi acquisti sono protetti con i migliori standard SSL e certificati !

Spedizione veloce e con tracciabilità per seguire il tuo prodotto.

Tutti gli acquisti godono del diritto di recesso.
D'Innocenzo Brothers
9788869658136
SIZE: 17x23 cm
PAGES: 96
PHOTOGRAPHS: 73 c. coloured
BINDING: cloth hardcover
RETAIL: £ 21.00 – $ 27.00
Supported by Gucci
Night pharmacy is the first photo book by Fabio and Damiano D'Innocenzo, the two directors of the debut film La Terra dell'abbastanza, winner of the Nastro D'Argento award in 2018, and of Favolacce, in competition at the 2020 Berlinale Festival. The book is a beautiful, fun and surreal conversation on photography, which illustrates their hunger to see, their need to express themselves through any language.


Night pharmacy retraces childhood memories, events or distant experiences, as if the twin brothers had already taken notes about that, in the form of an extremely ironic and spontaneous dialogue. Leafing through the pages of the book, the conversation reveals their concept of photography, while they tell their life, underlining the differences between brothers: "I would like to tell, with these photos, something mysterious… and about myself, something that can become yours too, but you must want to know me…"


The color snapshots within the book, together with the conversation, turn into something different according to who the photographer is; pictures can change their sense in line with observer's sensitivity and mood. Photography, for the visionary D'Innocenzo brothers, is not just a document of what happened, but the happening itself, shaped at the time the shot was taken: «When you photograph, you don't redo the world, you make it happen there, it is only there, the world is the photo, not the other way round, I mean…».
Night pharmacy is an instinctive testament against the dictatorship of what deserves, or not, to be photographed and frozen in time. Captured and spontaneous, without any kind of significance, pictures are accepted as everyone accepts his own ordinary or extraordinary role in the world. Every secondary detail is rewritten, deconstructed and compressed: they suddenly become a mysterious starting point to rethink our point of view and the freedom to be elsewhere without any explanation.


Leafing through the book, we can find the faces of friends and girlfriends, or simple passers-by, landscapes seen during their journeys, but also the ordinary and familiar life brought back by memories. However, it is not a story about the past, or at least not only: Fabio and Damiano look at what moves around them to be inspired by sample details for other images, with a ravenous, young and spontaneous voracity. Moreover, the starting point for the title of the book, is a detail, a sentimental reason: the green neon light outside the night pharmacy, symbol of affection, concern and familiarity; the need to take a picture to tell something, to know oneself.
Fabio and Damiano D'Innocenzo were born in Rome on July 14th, 1988. They spent their childhood drawing, writing and taking pictures. Without any academic preparation, they wrote the script and directed their first movie, La terra dell'abbastanza (2018), which was presented with enthusiastic reviews at the Berlin Festival and won a Nastro d'Argento. In 2020 their new movie Favolacce will be out in theaters. They also published the collection of poems Mia madre è un'arma (La Nave di Teseo, 2019). Night Pharmacy is their first photobook.