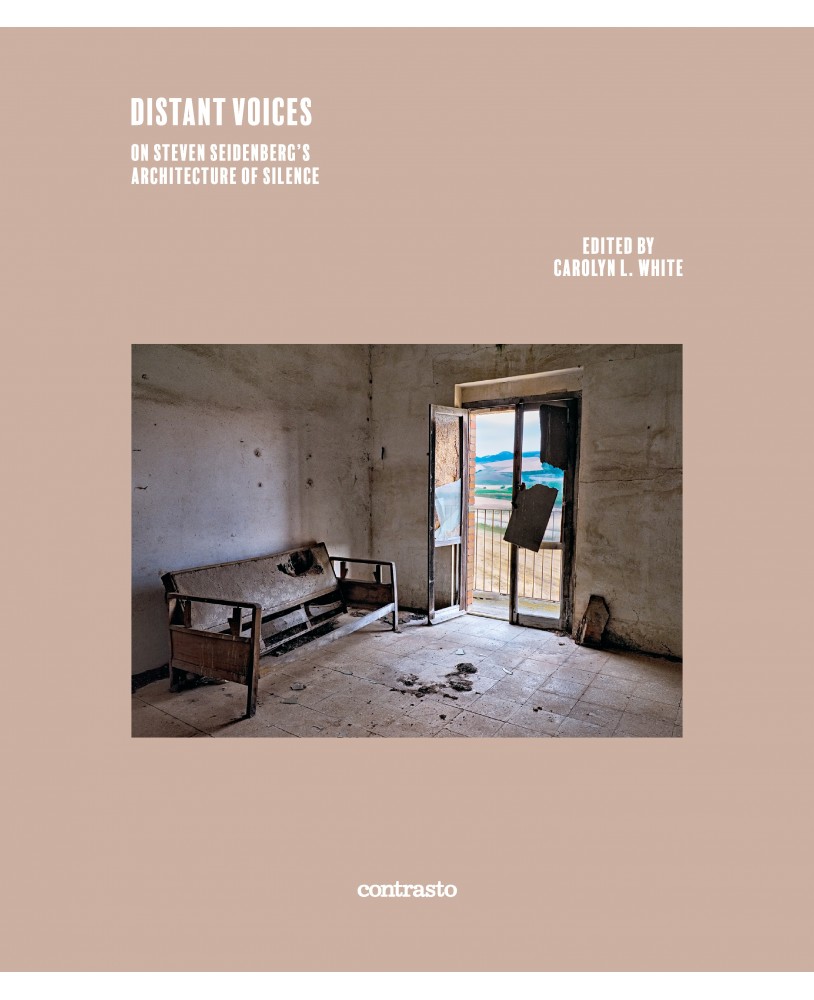  
Distant Voices
On Steven Seidenberg's Architecture of silence
Edited by Carolyn L. White
Tutti i tuoi acquisti sono protetti con i migliori standard SSL e certificati !

Spedizione veloce e con tracciabilità per seguire il tuo prodotto.

Tutti gli acquisti godono del diritto di recesso.
Steven Seidenberg
9788869658969
24 x 28 cm 
96 pages
17 color photographs
hardcover

In this collection of essays on photographer Steven Seidenberg's The Architecture of Silence: Abandoned Lives of the Italian South, art historians, critics, curators, architects, philosophers, anthropologists, and archaeologists come together to discuss the power and reach of Seidenberg's work. Reflecting on varied aspects of the collection and its subject, some of the authors focus on the formal qualities of the images in reference to landscape painting, others discuss them in the broader context of cultural heritage, while still others ruminate on the compositional complexity of Seidenberg's practice as it both echoes and stands apart from a trajectory that includes Carlton Watkins, Bernd and Hilla Becher, Marsha Ginsburg, and Subhankar Banerjee, among others. Finally, the essays underscore the impact of an imaging project that privileges the formal elements of composition as a means to evoke the tragedy and joy of those whose lives have come and gone, by bearing witness to their traces––in turn a visual meditation on the poignant
materiality of the human condition.



Steven Seidenberg is an artist and writer whose collections of photos include Pipevalve: Berlin (Lodima Press, 2017), and the forthcoming ­ e Architecture of Silence: Abandoned Lives of the Italian South. His works of prose, verse, and aphorism include Situ (Black Sun Lit, 2018), Null Set (Spooky Action Books, 2015), Itch (RAW ArT Press, 2014) and two forthcoming works — plain sight (Roof Books, 2020) and Anon, pt. 1 (Omnidawn, 2021). His work has been shown in various venues in Italy, Japan, Germany, Mexico, and the 
United States. Carolyn L. White is Professor of Anthropology at the University of Nevada, Reno, where she holds the Mamie Kleberg Chair in Historic Preservation. Her research focuses on cultural heritage, the materiality of daily life, the intersection of and collaboration between art and archaeology, the built environment, and archaeology of the present. She has studied numerous archaeological sites in the mainland US, Hawaii, England, Japan, Italy, and Germany and pioneered the theory and practice of active site archaeology. Her newest book, ­ e Archaeology of Burning Man: ­ e Rise and Fall of Black Rock City, is forthcoming from University of New Mexico Press (2020).