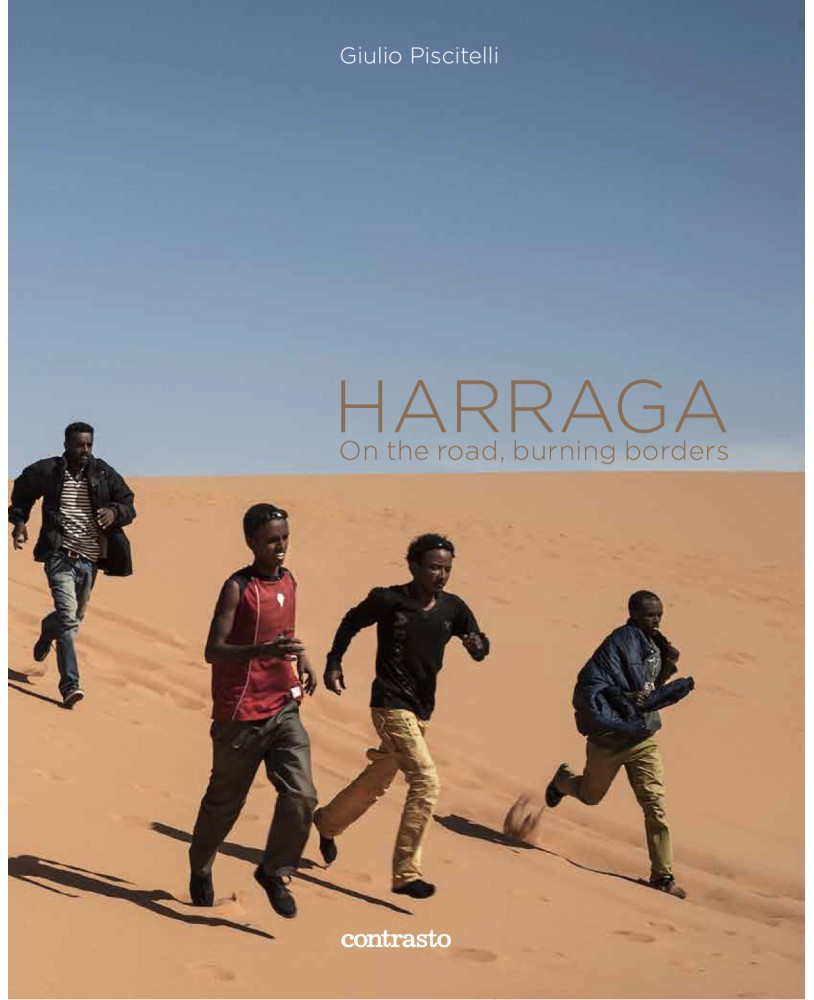  
HARRAGA. On the road, burning borders
Introduction by Alessandro Leogrande
Maps drawn for the project by cartographer Philippe Rekacewicz
Harraga is the Moroccan and Algerian term for a migrant who travels with no papers, who "burns borders." Giulio Piscitelli has followed at close range the routes of migrants a empting to enter Europe. He has done this in both the eastern and western Mediterranean, embarking in Tunisia to reach the Italian coast, documenting the Spanish enclave of Melilla, journeys toward Lampedusa, refugees from the Horn of Africa who traverse the desert, and those from Syria, Iraq and Afghanistan, who land on the Greek islands in hope of reaching Europe.
Tutti i tuoi acquisti sono protetti con i migliori standard SSL e certificati !

Spedizione veloce e con tracciabilità per seguire il tuo prodotto.

Tutti gli acquisti godono del diritto di recesso.
Giulio Piscitelli
9788869656477
The result of a long project begun in 2010, Harraga is a unique testimony, in images and words, of the historic period we are living through — a visual archive that leaves an indelible mark in the minds of all who view it. "Behind the word harraga, used especially in Algeria, Tunisia and Morocco to indicate the migrants who are trying to enter Europe, there hides the great wound of the contemporary world. Ardent dreams become burned up, exhausted. […] In Piscitelli's work there are no numbers and routes, you won't find that ascetic gaze that o en reduces journeys and borders to cold given facts, or even to a question of public order. There are, first of all, bodies. Bodies in motion, bodies at wait, bodies that desire, bodies that yield. Bodies that burn together at the borders they intend to cross. And at the same time there are the glances and faces of those who journey. The eyes of those who see the Border, and the journey required to move beyond it, feet planted on the other side. […] There is no alternative to the sea and the desert, according to those who undertake these journeys. There is no turning back." From the introduction by Alessandro Leogrande.
Giulio Piscitelli (b. 1981, Napoli), after earning a degree in Communication Studies, ap- proached photography in 2008, and began working with Italian and foreign news agencies. Since 2010, he focused on the immigration crisis in Europe, producing a long term project that let to to the creation of Harraga; at the same time, he expanded his interest on interna- tional crisis, such as the coup in Egypt, the war in Syria, Irak, and
Ukraine. His reports were published by Italian and international newspapers and magazines such as: Internazionale, New York Times, Espresso, Stern, Io donna, Newsweek, Vanity Fair, Time, La Stampa, Vrji, among others. Giulio Piscitelli currently lives in Naples and his work is represented by Contrasto agency since 2013.

Alessandro Leogrande, born in Taranto in 1977, lives in Rome. A writer and journalist, he worked for ten years as deputy editor of the monthly publication Lo Straniero. His investi- gations are concerned with social, political and environmental issues, and some of his nar- rative accounts have described the journeys of migrants, the contemporary Mediterranean and the exploitation of new day laborers. His books include: Uomini e caporali(Mondadori 2008/Feltrinelli 2016); Il naufragio (Feltrinelli 2011), which was the source for a musical work, Kater i Rades by Admir Shkurtaj, directed by Salvatore Tramacere, and which debuted at the Biennale Musica in 2014; Fumo sulla ci à (Fandango 2013); and La frontiera (Feltrinelli 2016).

Philippe Rekacewicz was born in 1960 in Paris. He is a geographer, cartographer and in- formation designer. A er earning his diploma in geography from the University of Paris 1 (Panthéon-Sorbonne), he worked at Le Monde diplomatique from 1988 to 2014. Between 1996 and 2008, he headed in parallel the cartographic department of GRID-Arendal in Nor- way, a delocalized o ce of the the United Nations Environment Program (UNEP). He is a specialist in geopolitics and international relations. His interests include ques- tions relating to migration, refugees, forced displacement of populations, and borders. He is presently working on several socio-geographic projects on the creation of public and private space and the perception and representation of borders. He is keenly interested in the re- lationships between cartography, art, science, and politics. Since 2006, he has participated in cartographic-artistic projects in a number of European countries. He is also currently con- ducting research into "experimental cartography".