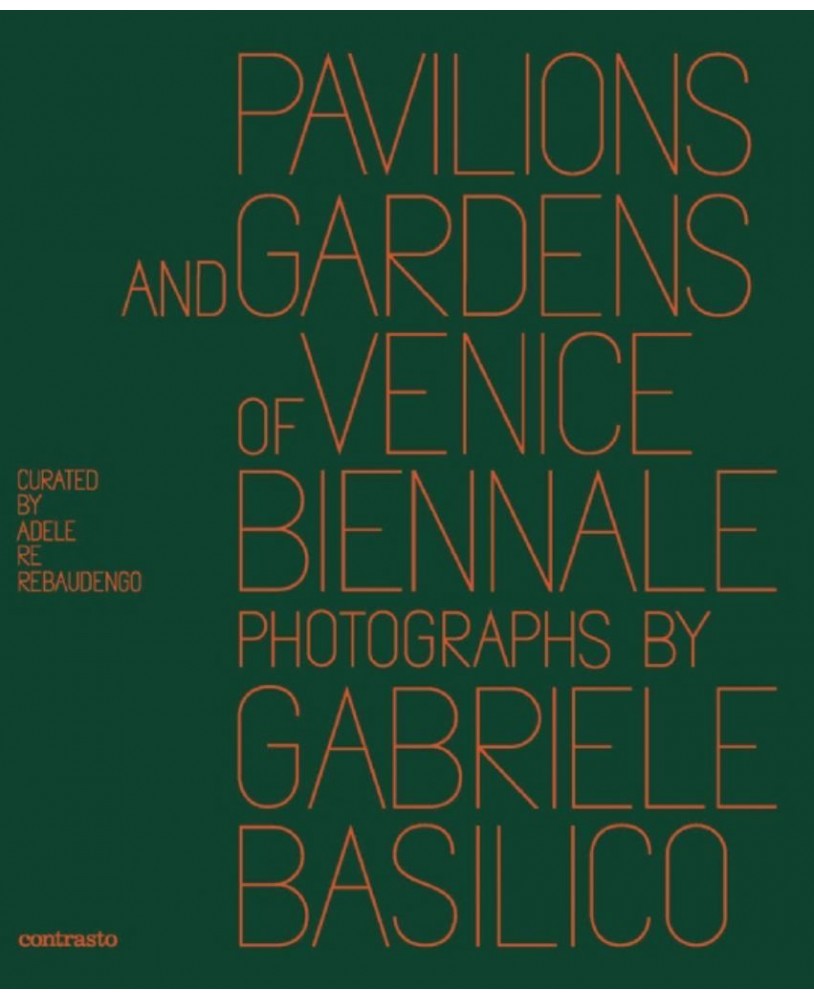  
Padiglioni e giardini della biennale di venezia
The Giardini and the Pavilions through the strength of their harmonious proportions and the delicacy of their structures invite us not to shake off the past but rather to protect its symbolic formal beauty. This is a duty, which despite its challenges, we should not neglect.
Tutti i tuoi acquisti sono protetti con i migliori standard SSL e certificati !

Spedizione veloce e con tracciabilità per seguire il tuo prodotto.

Tutti gli acquisti godono del diritto di recesso.
Gabriele Basilico
9788869654404
23x26 cm
200 pages
80 b/w photograps
hardcover
Gabriele Basilico's last book 'Pavilions and Gardens of Venice Biennale' presents for the first time a complete photography work about Pavilions and Gardens of the Venice Biennale. Designed by the most important architects of the 20th century, Venice's Giardini have been home to the exhibition pavilions of the International Art Biennale since 1895. Gabriele Basilico worked personally on this book until his recent lost and his work is accompained by a number of architects' and art historians' essays. The essays and the images that portray the 31 pavilions make the public experience an extraordinary journey into architecture and art. The book conveys an exclusive artistic and historical reading of the pavilions, together with the technical descriptions and considerations about the means in which they were thought and created.

"The first time the three of us, Gabriele Basilico, in the company of his camera and myself, stepped into this seemingly very different world, we felt a sense of contentment. As we explored the alternating sections of the Giardini, we grew more aware of the way in which the quiet empty spaces flow into visually busier areas; the imposing nature of the pavilion structures amid the green. We followed paths sloping gently upwards, momentarily and tantalisingly obscuring from view what we were curious to see and we reflected upon what it is to be human: mankind may be capable of designing masterpieces but human beings today often find themselves loss, parted from that inner harmony which enables them to fulfil their higher potential."
 Extract from Adele Re Rebaudengo preface.
 
Gabriele Basilico was born in Milan in 1944. After graduating in
architecture in 1973, he has consistently dedicated himself to photography.
His favorite areas of research have included the shape and identity of cities, the development of the metropolis and the ongoing changes in postindustrial landscapes. Considered one of today¹s master photographers, Gabriele Basilico has been awarded many prizes and his work has been celebrated in many important private and public collections both in Italy and internationally. ŒMilan. Portrait of Factories (1978-1980)¹ is his first long project centering on Milan¹s industrial outskirts and marks his debutorial museum exhibit (at PAC, Milan, in 1983). He is the only Italian photographer to participate in the 1984-85 ŒBord de mer¹ project for the Mission Photographique de la DATAR, a governmental mandate granted to an international group of photographers with the goal to investigate landscape change across France. In 1991Basilico takes part in the Beirut Œmission¹ to capture a city devastated by a 15-year-long civil war. Since then, Gabriele Basilico hasproduced and participated in countless documentary projects both  in Italy and abroad, which have generated a whole host of books and exhibits. In addition to his relentless photographic investigation into urban morphological transformation and contemporary landscapes, Gabriele Basilico has been busy holding seminars, workshops, lectures and reflections also through the written word. Gabriele Basilico died in Milan on February 13th, 2013. This book has been entirely made with his own supervision.
 
Awards:
1990 Prix Mois de la Photo Paris for the volume Porti di mare.
1996 Osella d¹oro award for contemporary architecture photography, Mostra
Internazionale di
Architettura of Venice¹s Biennale.
2000 I.N.U., Istituto Nazionale di Urbanistica, award
2001 Photo Espana award, Madrid.
2007 Astroc award, Madrid.