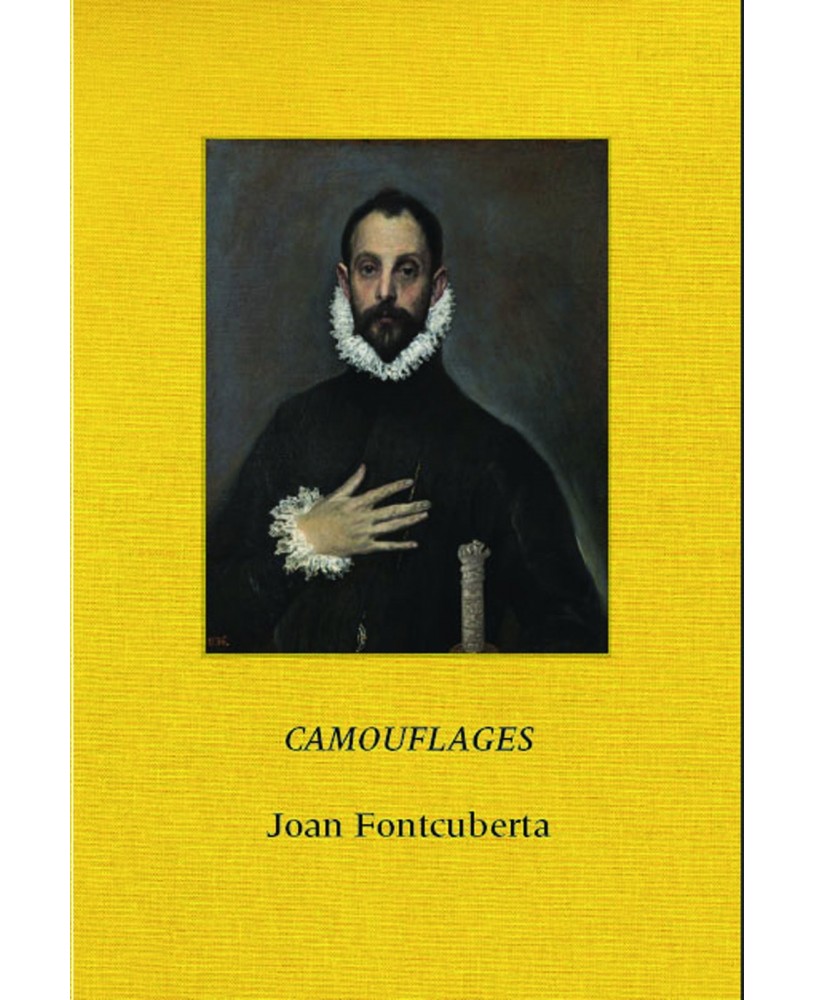  
Camouflages - UK
Joan Fontcuberta, in his original and multifaceted work Camouflages, impressively brings into question the concept of reality, exploring camouflage in all its aspects. The idea develops through ten thematic areas: independent, but strictly related as they represent as many viewpoints on the alteration of reality.
Tutti i tuoi acquisti sono protetti con i migliori standard SSL e certificati !

Spedizione veloce e con tracciabilità per seguire il tuo prodotto.

Tutti gli acquisti godono del diritto di recesso.
Joan Fontcuberta
9788869655210
23x15,5 cm
248 pages
170 colour and b/w photographs
hardcover
From the images of a fossil mermaid to virtual landscapes, created using famous artworks as moulds, passing through paradoxical miracles and fake botanical plates. The purpose is to spread "doubt" in the mind of the observer. The stars are midges and dust on the windscreen of a car, behind the terrorist hides an ordinary actor and an imaginary Russian astronaut disappears in space as well as in all documents and official photographs.
Through these images Fontcuberta, with an ironic and disillusioned eye, deals with broader subjects: the role of religion in society and politics, criticising superstition and irrational; the limitations connected with the idea of authorship, style, signature and authenticity of a work of art; a reflection upon realism conceived as "belief", "faith" or conviction.

The book is a co-edition with Gustavo Gili publishing, MEP, MUN (Museum of Navarra University) and Llull Institut.

Joan Fontcuberta was born in Barcelona in 1955. Together with his artistic research, during the years, he carried on a multidisciplinary activity in the field of photography, as professor, critic, historician and exhibition curator. He was a visiting professor in numerous international institutions, such as Harvard University and Le Fresnoy. Centre National des Arts Contemporains. He also taught in the Communication Department of the Pompeo Fabra University, in Barcelona. In 1980 he founded the magazine Photovision and he was its editor-in-chief for twenty years. He published numerous books related to history, aesthetics and pedagogy of photography: Estética Fotográfica: una selección de textos (1984), Fotografía: conceptos y procedimientos (1990), El beso de Judas. Fotografía y verdad (1994), Ciencia y fricción. Fotografía, naturaleza, artificio (1998), Historias de la Fotografía Española. Escritos 1977-2004 (2009) and Indiferencias fotografícas (2011). In 2012 he published with Contrasto La (foto)camera di Pandora. La fotografi@ dopo la fotografia, whose Spanish edition published the previous year won the 2011 National Essay Award, issued by the Spanish Ministry of Culture.
He presented his artistic research, focused on the ideas of nature, technology, photography and truth, in many solo exhibition in important international institutions, including MOMA (New York), Musée Cantini (Marseille), Art Institute (Chicago), IVAM (Valencia), Palazzo delle Esposizioni (Rome), ARTIUM (Vitoria) and Palais de Beaux Arts (Lille).