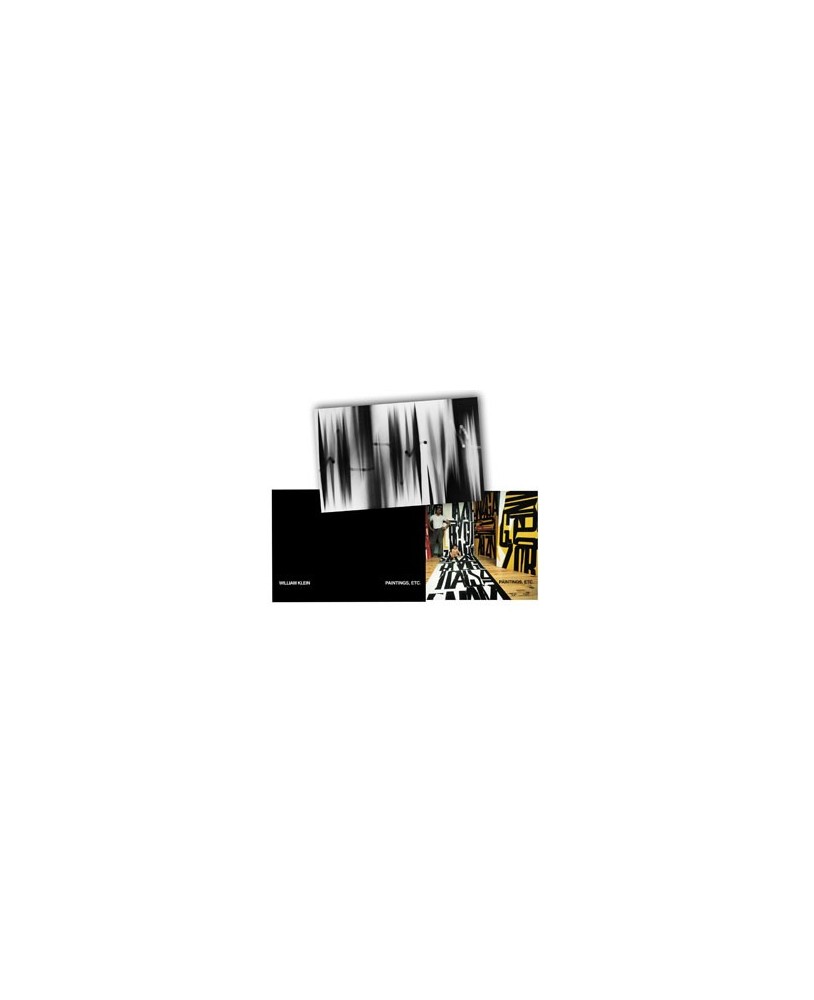  
Paintings
The book William Klein: Paintings Etc features rare and unseen paintings from the late 1940s and early 1950s, group of unknown abstract silver gelatin works, along with paintings for mural projects, drawings for Costumes and poster for film Mr. Freedom and some of most important photographs taken in New York, Paris, Rome, Tokyo, Moscow around 1950s with some painted contacts.
Tutti i tuoi acquisti sono protetti con i migliori standard SSL e certificati !

Spedizione veloce e con tracciabilità per seguire il tuo prodotto.

Tutti gli acquisti godono del diritto di recesso.
William Klein
9788869654008LE
34,5x25 cm
104 pages
100 colour photographs
paperback
Contrasto/HackelBury Fine Art/Howard Greenberg Gallery
Attached an original print signed by the author in 50 copies
The book, with a text by David Campany, is an exceptional group of Klein's early paintings and experiments in photography. Giving a new perspective on his entire career, they reveal an incredibly accomplished young artist. The foundations of his unique visual language are clearly seen as his trajectory is traced through painting, architecture, photography, books and film.

The exhibition William Klein: Paintings, Etc takes place at HackelBury Fine Art, London from 21 September to 20 December, 2012 and transfers to Howard Greenberg Gallery, New York, from 1 March to 12 April, 2013

William Klein is a photographer and filmmaker noted to for his ironic approach to both media and his extensive use of unusual photographic techniques in the context of photojournalism and fashion photography.

Trained as a painter, Klein studied under Fernand Léger and found early success with exhibitions of his work. However, he soon moved on to photography and achieved widespread fame as a fashion photographer for Vogue and for his photo essays on various cities. Despite having no training as a photographer, Klein won the Prix Nadar in 1957 for New York, a book of photographs taken during a brief return to his hometown in 1954. Klein's work was considered revolutionary for its "ambivalent and ironic approach to the world of fashion", its "uncompromising rejection of the then prevailing rules of photography" and for his extensive use of wide-angle and telephoto lenses, natural lighting and motion blur.

Though American by birth, Klein has lived and worked in France since his late teens.

David Campany is a writer, curator and Reader in Photography at the University of Westminster, London. His books include Art and Photography (Phaidon 2003), Photography and Cinema (Reaktion 2008), ANONYMES: l'amérique sand nom – photographies et cinema (Steidl/Le Bal, 2010) and Jeff Wall: Picture for Women (Afterall, MIT 2011). His essays have appeared in numerous books. He writes for Aperture, Frieze, Photoworks, Source, The Oxford Art Journal, and PA magazine.